Lisa Johnson Mandell writing for Realtor.com gets some good home advice from the property brothers.
"Property Brothers" stars Jonathan and Drew Scott have met a lot of interesting clients, but a hunky firefighter who starred as Mr. February on a "Red Hot Firefighters" calendar? That may be a first!
"It was for charity," Matt says with a laugh in the episode titled "Growing Boys, Grander House."
Matt and his wife, Nicole, have three young boys—two of whom are twins—and suddenly the 1,200-square-foot starter home in Canada they bought six years ago feels more than a little cramped. Especially since it has three bedrooms and only one small bathroom.
Jonathan thinks he can rip the dated '50s home apart and build it back up again for $70,000. If he can swing it, Drew estimates that their home can be sold for close to $800,000, rather than about $650,000 as is.
Meanwhile, the burning question for Drew is whether or not he can find them a new home with more bathrooms in a neighborhood that's not too far from friends and family, on their budget of $925,000. It seems like a big ask, but if the Scott twins couldn't stand the heat, they wouldn't be in the kitchen.
Along the way, they come up with some smart advice for the buyer and seller in all of us. Take a look!
Give your kitchen island or peninsula an overhang for seating
When Jonathan and Drew walk into the family's kitchen, they find a peninsula. But there isn't really room to pull up a chair, because of the shelves below. Drew immediately resolves the situation by kicking out the shelves—now there's plenty of space for his knees.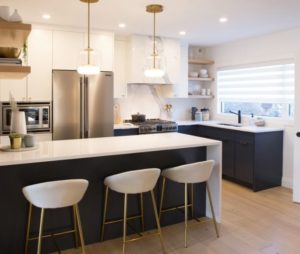 Color the kitchen
"I don't want to do just a white kitchen," Jonathan tells Nicole as he officially starts the renovation. "Now we're seeing a lot more color trending."
He advises using soft, subtle green undertones. But Nicole is not good with that—she prefers all white and neutral.
"Trust me," he says. "We're seeing greens and blues—that's what's trending."
He promises her he'll come up with something buyers will love, and he does—deeply dark blue lower cabinets with white, marbled quartz countertops. It is divine!
Click here for the full article