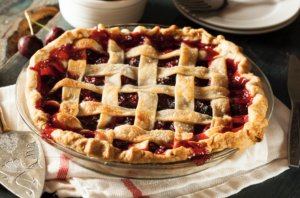 Need an excuse to indulge? Then you're in luck because today is National Pie Day! In honor of this delicious holiday, I scoured the area to find the top four places in town to grab a slice…or whole pie
Real Pie Company: As its name suggests, this artisan bakery is known for its yummy pies, which are created with handmade, all-butter crusts and fresh, seasonal fruit and nuts. If you're craving something sweet, try their Jumbleberry Pie (marionberries, cherries, wild blueberries & raspberries). If you're opting for savory, try their homemade chicken pot pie. They also offer pie milkshakes… Need I say more? Click here to view their full menu.
I Love Pie: I Love Pie is another great pie shop to check out in Carmichael! Yelpers call their first pie-eating experience here "love at first bite!". The shop is charming and welcoming and its pies are even more impressive! Dig into their apple pie (one of their more popular flavors) for an unforgettable experience.
Ricks Dessert Diner: This retro diner is known for serving up some delicious desserts! After all, they've been voted "Best of Sacramento for Dessert" every year since 1986. Some of their most popular pies include their old fashioned apple pie and chocolate peanut butter pie. Click here to see their expansive pie menu.
Freeport Bakery: Valentine's Day is just around the corner and Freeport Bakery has got you covered with their delicious Hand Pies, which consist of a flakey pie pastry filled with your choice of apple, cherry or berry filling. A thin layer of marzipan makes these exclusive Freeport Bakery specials.
Do you have a favorite pie shop in Sacramento? Let me know in the comments section below!