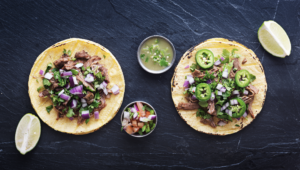 Happy Cinco De Mayo! If you want to enjoy some authentic Mexican cuisine from home today and support local restaurants, check out some of the best dishes (and deals) in town!
Zocalo in midtown, which dubbed Tuesday "Cinco de Quarantino", offers both pickup and delivery, and continues to serve up its taco Tuesday special, which includes a margarita, taco bar, chips and salsa, serving two for $25.
Rey Azteca in Carmichael, which was voted KCRA's "Best Mexican Food" in 2014 and 2016, also offers both pickup and delivery. They have some great deals going on this week including an "Emergency Family Meal" that feeds a family of five and includes 1 pound of Carnitas, 1 pound of Carne Asada, 1 pound of Marinated Chicken, Beans, Rice, Salsas, Chips, and most importantly, 1 roll of toilet paper! Talk about a deal… Check out their full online menu here.
Mayahuel, downtown on K Street, is open from 4 p.m. to 7 p.m. daily, offering a variety of meals as well as delicious cocktails to-go. Click here to browse their online menu. After placing your order, you can give them a call at 916.441.7200 when you are parked outside and they will bring out your food.
Chando's Tacos is also open at its locations on Arden Way, Power Inn Road, as well as in Roseville and West Sacramento. They are serving up family-style taco kits and survival kits in varying sizes. Click here for Cinco De Mayo deals and to place your online order.
Yard House: Thirsty? Yard House is offering two types of margaritas available to-go for $6 each this Cinco de Mayo. It's also offering 15% off all takeout orders for pickup through May 17. Click here to see their full drink and food menu.
La Terraza in Old Sac has a great deal going on for party trays today. Choose from Carnitas, Chicken, or Steak Fajitas that are all paired with beans, rice, tortillas, sour cream, pico de gallo, and chips and salsa.
Do you have a favorite local spot that is serving up some delicious Cinco De Mayo dishes? Let me know in the comments section below!