During our pandemic times, I constantly am reminded to clean out the garage. However, I just don't want to. I don't think it is messy plus I can find everything when I need it. Most of the stuff that I need to find is in the garage refrigerator anyway. However, I am pressured to improve the atmosphere of the garage. With some of this time to work on projects, I guess I will do some garage reorganizing.
Dalia Rotrammel has her own set of ideas on how to create your own DIY garage cabinet.
There are plenty of creative ways to build or install cabinets in your garage. The best thing is that you can do it on your own without having to spend too much. Moreover, you can make your garage storage system more space-efficient by installing top-opening lids or sliding doors. This allows you to access items inside a cabinet without having to move your car out of the garage. It helps if you have a few DIY garage cabinet ideas in mind.
In this post, we'll discuss a few garage cabinet ideas you can do to make the most of your garage storage and give your garage a facelift.
Some Paint Can Go a Long Way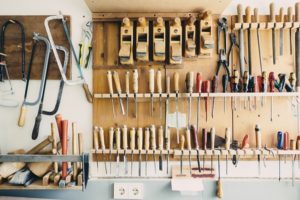 Paint is a low-cost upgrade that can instantly renew and transform any room. This is a great way to revive a garage on a tight budget. Consider using chalkboard paint and a versatile labeling system. Chalkboard paint is cheap to buy. It can be tinted any color, which allows you to use multiple shades or colors for a custom look or brighten up a dark garage with bright paint.
The Hidden Fold-Down Table
There are many reasons to organize a garage, such as maximizing space. A hidden table can help with this. This type of table can provide a gift-wrapping station, workbench, craft table or gardening bench. You can either build one yourself with some pegboard panels and a shelving unit or buy one at a wholesale store. This is a great way to store supplies and incomplete projects while also having a convenient workspace available whenever you need one.
Wall to Wall Cabinets
If you have a crowded or small garage and don't want cabinet doors that swing outwards, sliding doors can come in quite handy. You can use basic closet sliders that will conceal the items in your storage shelves. This is a great way to store tools in your garage. It keeps the area neat and tidy while also giving the garage a modern look.
Upscale Garage Cabinet
If you're working on a tight budget but want your garage to have a more contemporary look, consider a wholesale store. They do have plenty of great cabinets at affordable prices. You can even purchase some of them piece by piece and create your own custom cabinets. This is a great way to improve the look of your garage without spending too much or putting in too much effort.
Click here for the full article