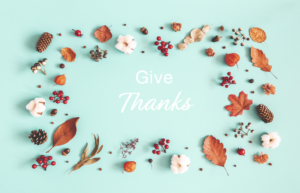 Thanksgiving is right around the corner, and if you're like me, you might be wondering how you can celebrate safely this year amid the pandemic…Many of us will forgo our usual traditions and spend this holiday away from our extended family and friends. But that doesn't mean you can't think outside of the box and create new traditions. This year is an opportunity to switch things up and show your family, friends, and community all of the ways that you're thankful for them – even if it can't be done in person. Below are a few creative ideas to help you celebrate Turkey Day, 2020-style.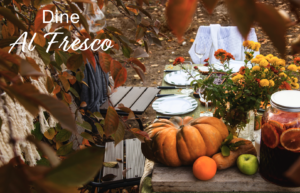 This year, we are encouraged to celebrate Thanksgiving "al fresco", as outdoor gatherings are deemed significantly safer than indoor ones. And with the forecast showing plenty of sunshine and a high of 63 degrees in the Sacramento area, it's not totally out of the question. So grab some outdoor heaters, crank up that fire pit and throw on a sweater and warm attire for a memorable outdoor celebration. If you are celebrating with different households, create a potluck station where each household can take turns loading up on their favorite dishes. Check out some of the below essentials—from kitchenware to décor – for a successful outdoor gathering. You might find that you already have some of these items lying around the house…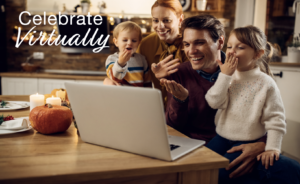 If you are unable to celebrate with extended family and friends, consider organizing a virtual Thanksgiving experience with your loved ones. Not sure how to set up a Zoom call? Check out this helpful guide.
Recipe Swap: Participate in a Thanksgiving recipe swap, where you can share your favorite recipes, test them out and set up a Zoom call for a taste test challenge! You can easily exchange family recipes online using one of these existing Google Doc templates.
Game Night: Who loves game night? Host a virtual game night with these 10 kid-friendly games (Thanksgiving themed of course) that can be played easily from behind the screens. You can also make a game out of these Thanksgiving Trivia questions, where the winner receives an e-gift card or prize of your choice.
Macy's Parade: For many of us, watching the Macy's Thanksgiving Day Parade together is a favorite tradition, and this year they are going virtual. So why not go virtual as well and watch along with your extended family and friends using Zoom or FaceTime? Find out how you can tune in here.
Zoom Dinner: Last but certainly not least, consider hosting a virtual Thanksgiving dinner with loved ones that are not able to attend using Zoom or Facetime. Set up a call using your phone or laptop and share your meal as you normally would, go around the table and say what you are thankful for, catch up with the family…the possibilities are endless!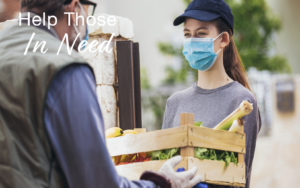 This Thanksgiving, it's especially important to help those in need as many have been affected by this pandemic, both health-wise and financially. Below are some ways that you can donate your time, money, and resources to charitable organizations, businesses, and community members.
Support Our Local Restaurants: Many of our local restaurants are especially hurting during this time. Consider ordering takeout this year at one of your favorite spots. Check out Sac Bee's list of restaurants that are offering delicious Thanksgiving feasts. OpenTable® also has a growing list of its own—see what made the list here.
Help Out a Neighbor in Need: Volunteer to go grocery shopping for a neighbor or friend who may be at-risk or elderly.
Donate to a Food Bank or Shelter: Find a local food kitchen or shelter that may need your help this year. Donate your time or money to the Sacramento Food Bank here or a local shelter here.
Give Back to our Furry Friends: Our furry friends need love too! Volunteer, donate, or adopt a pet at a local shelter, including The Sacramento SPCA or the Front Street Animal Shelter.
Run to Feed the Hungry (Virtual Event): Participate in the Sacramento Food Bank & Family Services' first-ever, Virtual Run to Feed the Hungry event.
Meals on Wheels: Find a Meals on Wheels near you and sign up to volunteer. This widespread organization is committed to supporting our senior neighbors to live healthier and more nourished lives in their own homes.
Sending warm, heartfelt wishes from my home to yours this Thanksgiving!