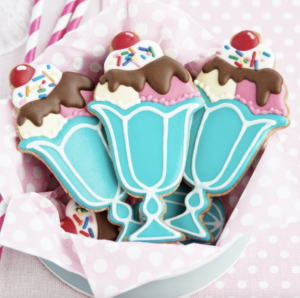 Today is National Sugar Cookie Day! If you're craving something sweet, consider supporting one of our local bakeries in the area to grab one (or a dozen) delicious sugar cookies.
Cookies and Milk: Cookies and Milk in Midtown is Sacramento's late-night cookie spot that delivers warm cookies straight to your door. Favorites include their fresh out of the oven chocolate chunk cookies, yummy snickerdoodles, and flakey, buttery sugar cookies. You can order online here for pickup, or have them delivered through a third-party app including Postmates, Uber EATS, and Door Dash.
Insomnia Cookies: Insomnia Cookies is another Midtown favorite that offers delivery to addresses in range or direct shipping or pickup to nearby areas. They offer a wide variety of cookies, brownies, and cakes to satisfy any sweet tooth. Their menu boasts classics including their M&M cookie with their signature buttery dough, their famous peanut butter cookies loaded with peanut butter chips, and of course, their classic sweet and buttery sugar cookies. Check out their full menu here.
Pretty Sweet: Do you have an occasion to celebrate? Pretty Sweet bakery in Folsom has delicious custom creations for all of the special occasions in your life. This local bakery is especially known for its gorgeous sugar cookie collections and beautiful designs. From birthdays to sports to major holidays, they've got you covered. Check out their cookie shop and order online for pickup here.
I Scream for Icing: Last but certainly not least, if you're craving delicious and adorable sugar cookies with lots of icing, pay a visit to I Scream for Icing in Natomas. Their homemade designs are made to order ahead of time. Check out their Instagram page here for inspiration.