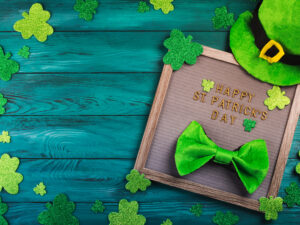 While Saint Patrick's Day is typically synonymous with parades, festive food and drinks, and large gatherings with friends and family, this year it looks like a quiet holiday at home is on the agenda. Staying in might not be what you had planned, but lucky for us, there are still plenty of ways to safely celebrate St. Paddy's Day at home. From creative recipes and drinks to fun crafts for the whole family, we've got you covered. Check out some of the below ideas for inspiration!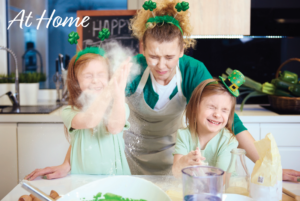 Whether you're relaxing at home alone, celebrating with that special someone, or trying to keep the kiddos entertained, everyone needs to eat. So why not make a festive meal at home? We've got you covered with St. Patrick's Day-inspired dishes that will be sure to impress your St. Paddy's Day crew.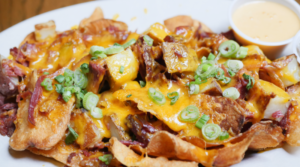 Bring on the Appetizers: Looking for some tasty appetizers to go with that green pint of Guinness? Check out these mouth-watering dips, bites, and sliders.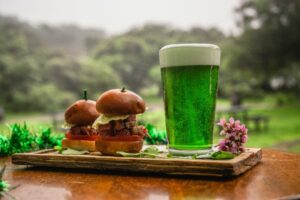 What's For Dinner?: These Irish-inspired dishes will take your Saint Patrick's Day celebration to the next level.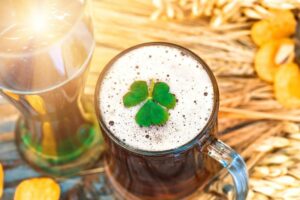 Mix up a Green Drink: Get the party started with these holiday-inspired beers, mixed drinks, and mocktails!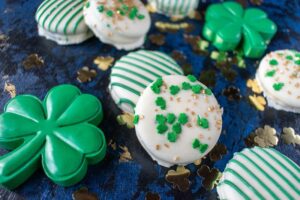 Make a Festive Dessert: Don't forget the dessert! Consider making one of these decadent treats to celebrate the occasion.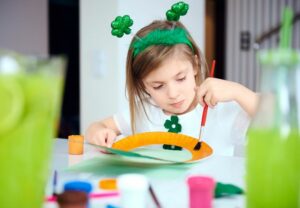 Get Crafty: If you're home with the kids due to school cancellations, set up a fun craft they can do on their own.
Leprechaun Traps: As seen on Instagram, Leprechaun traps are one of this year's biggest holiday trends. And most of the designs can be made with materials that you can find around the house. Check out these 6 DIY Leprechaun Traps.
Pot of Gold Mason Jar: Create these adorable Mason Jars filled with chocolate coins and gift them to remind your loved ones that they make you feel lucky each day.
Paper Shamrock Wreath: All you need is some scrap paper to create this cute shamrock wreath.
DIY Tee: Working from home? You can still be festive and wear your green with this adorable Kiss Me I'm Irish shirt.
St. Patrick's Day Pencil Toppers: Make homework a little more fun with these DIY Pencil Toppers.
Shamrock Coloring Printable: Coloring books are all the rage – and this shamrock printable is no exception. This activity is perfect for both kids and adults.
Fruit Loop Rainbow: This simple rainbow craft is a great way to keep your little ones entertained all afternoon.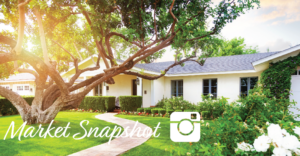 As we transitioned into the new year, low mortgage rates and low inventory drove up real estate prices in markets across the country.
But exactly how much did home values increase at the start of 2021? According to Realtor.com, in February 2021 the median list price of homes in Sacramento was $399,500 – trending up 12.5% year-over-year. That means if you purchased a home for $350,000 in February 2020, by February 2021, that home would have increased in value by $43,750, bringing your home's value to $393,750.
Demand for homes is high and inventory is low, which is driving up home prices—so if you've been thinking about selling, now is a great time to list and fetch top dollar for your home.