In 2019, there are a lot of technology advances that make the home work just a little bit smarter. We have come along ways since the clapper came to turn our lights on and off.
James Stevenson gives us some highlights on making our home just a little bit smarter.
With technology developing, we now have so many gadgets and appliances which we can call 'smart.' The next step is to modernize our homes in the same style and make our lives that much easier.
A smart home is a place where appliances, lights, gadgets, security, – and pretty much whatever else you want – are all connected to one another.  You can also control them remotely using a simple app. This kind of home gives owners comfort, security, and convenience. It may sound confusing. That is why you should read on to get the image of your ideal Smart Home.
Getting a smart system for your home can save time, money, and energy. Most homes aren't built with these appliances, though. The easiest thing to do is to introduce these appliances into an already made home. Let's see which devices today have their 'smart' counterparts.
Hubs
If you want your doors to unlock, your lights to turn on, and your kettle to start working the moment you approach your house, this is the device for you.
A smart home hub is the first step towards a smart home and the heart of the network. It is a hardware or software that connects devices in a house and controls communication among them. Plus, it enables the user to control the entire place by a single app.
Another useful feature is that you can control your devices while you are away from home via this device so, you can go out anytime you want.
Speakers
Imagine the world where you don't have to get up to play music, find the remote, and turn on the lights. Now you can say a command, and have it done in an instant.
Smart speakers are wireless speakers with voice-control. They tend to have artificial intelligence built into them. They are usually found in voice-controlled personal assistants.
This gadget has many applications, playing music being just the tip of the iceberg. You may set alarms, and have your questions answered, for example. It is able to interact with other devices in the house, making the possibilities truly endless. So amazing!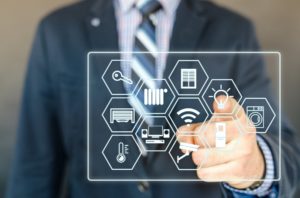 Lighting
Convenience, comfort, and looking cool are all connected by this device. Smart lighting consists of light bulbs, all connected to adjacent ones by a network, and controlled by a hub.
You manage smart lighting with a simple app. It allows you to change the brightness of the bulbs, and even the color if your light bulbs have LED lights. Now you can have the perfect lighting for every situation and switching between them is a tap of your finger away.
Some of these systems may also have useful features, such as dimming and motion detection.
Plugs
This is the perfect device to 'smartify' your non-smart appliances. It is an excellent investment, and a significant first step towards a smart home.
A smart plug's function is to allow remote control over whichever appliance you have plugged into it. For instance, you may check on your oven from across town if you get anxious about leaving it on.
Besides letting you manage your devices, you get the option of creating a schedule. Wave the worrying away and get one today!
Doorbells
Now you don't have to peer through the spy hole to see who is ringing your doorbell. This device's first concern is safety, and convenience comes as a strong second.
You will get a notification to your smartphone when somebody is at your door. It has a camera and sends a live video recording of your visitor. Also, you can have a two-way conversation via a smart doorbell.
Sensors
Getting a smart sensor for your home means not getting up on every sound you hear at night. It also means not having to hire a house-sitter for your vacation.  Safety meets convenience with this handy new device.
Smart sensors have systems which perform specific actions as a response to environmental input.  They can notify you about an uninvited intruder, about a window or a door that is accidentally open, and to turn on the lights when you enter the room.
The main point of all these devices is to make your life easier. You can definitely live without them, but you don't have to anymore. There are more and more affordable options. You don't need to buy every single one, either – but it will be hard to choose with so many fantastic options!
Click here for full article