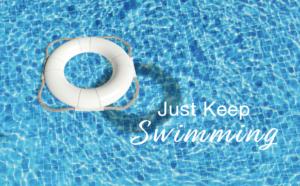 As we continue to self-quarantine at home, many of us might be feeling disconnected, lonely, and stir-crazy—all of which are perfectly normal feelings to have at this time. However, it's important to remember that there is light at the end of the tunnel. Coronavirus numbers are beginning to stabilize as a result of social distancing, and California is just weeks away from modifying its stay-at-home orders.
So while it may be difficult, just know that we are all in this together. In the words of Dory from Finding Nemo, when life gets us down we must, "Just Keep Swimming…" until we cross the finish line together.
I also want to extend a heartfelt thank you to all of our real "lifebuoys" out there. Thank you to our healthcare workers, first responders, police officers, firefighters, grocery store workers, and all of the brave heroes on the frontline for serving and loving your communities during this critical time.
This month's newsletter is dedicated to answering some common questions and concerns that sellers and buyers might have during this time. I am also sharing a fun DIY home project to keep you and your loved ones busy and entertained!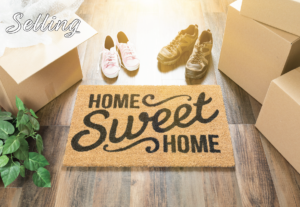 The coronavirus pandemic has brought much of the country to a screeching halt. But just because people are stuck at home, it doesn't mean your home sale has to come to a screeching halt too. You can sell your home in the midst of this challenging time—as long as you're safe.
Here are some precautions homeowners should take in order to sell their home safely during the COVID-19 crisis:
Embrace virtual showings: You don't need a swarm of potential buyers walking in and out of your house; it's not safe for you or them. Instead, have your real estate agent vet buyers and give them virtual tours of your home.
A recent survey from realtor.com found that, if given access to the right information and technology features, nearly ¼ of respondents (24 percent) would be willing to buy a home without seeing it in person. The number is even higher for younger homebuyers, at 29 percent.
But what information and tech features do buyers need to make a purchase? According to the survey, the features most important to would-be buyers when making a decision about buying a property remotely include:
A virtual tour of the home (61 percent)
Accurate, detailed listing information (58 percent)
Accurate, detailed neighborhood information (53 percent)
High-quality listing photos (51 percent)
A video walk-through with their real estate agent (39 percent)
Give me a call today to learn more about our virtual tours, professional photography, and 3D Matterport technology. 
Practice safety measures for in-person showings: If you have a buyer who has already been vetted and is extremely interested in the property, they may want to see your home in person before writing an offer. Prior to allowing anyone into your home, make sure to thoroughly clean and disinfect all surfaces to protect potential buyers—and then make sure to do the same after the in-person tour to protect yourself and your family.
The coronavirus pandemic is changing the way people buy and sell homes. But with the right safety measures, there's no reason it has to derail your home sale.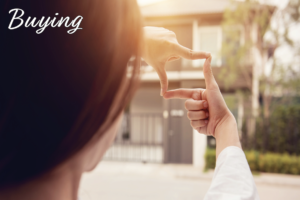 With social distancing in full swing, searching for a home in the traditional sense—including going to tour homes in person—is getting put on the back burner. But just because you can't see as many homes in person, it doesn't mean your home search has to suffer!
A recent article from realtor.com outlined tips for conducting a virtual house hunt that's just as good as the real thing:
Learn how to read an online listing and what's hiding: You don't want to waste your time virtually touring homes that aren't going to be the right fit. When going through a listing, look for red flags that might indicate that a listing isn't what it seems—and isn't worth your time (for example, a complete lack of photos of the home's interior or photos that appear to be stretched out to make a room appear bigger). It's also important to stick to your original home search criteria whether that applies to living in a particular neighborhood and location or requiring a certain bed/bath count—it can be easy to venture off course to other neighborhoods and homes with just a click of a button, but sticking to your criteria is key.
Ask your real estate agent to go into detail during virtual tours: Thanks to technology like Zoom or FaceTime, your agent can take you on a virtual tour of potential properties. But video doesn't catch all the small details you would catch if you were physically in the space (like the finishes on cabinets, or crown molding on the ceiling)—so make sure to ask your agent to talk you through those details.
Check out the neighborhood: There are a ton of interactive map tools and neighborhood guides on the internet that will give you insight into a potential home's neighborhood. Ask your agent to send detailed neighborhood reports and information.
Bottom line? With a little creativity, technology, and patience, there's no reason your virtual home search can't be just as effective as a traditional search!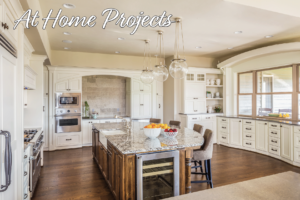 The kitchen has (not surprisingly) become one of the most popular areas in our homes these days…So much so that our fridge may see us more times a day than the outside world…All jokes aside, you might consider using this extra time at home as an opportunity to add that extra "wow" factor to your kitchen. The best part? These DIY home renovation ideas don't require a lot of time or money:
Build a custom copper rack for your pots and pans: Easy and inexpensive, a custom copper rack for your pots and pans is a great way to add a stylish edge to your kitchen. Just hang a copper pipe from your wall or ceiling, hang your pots and pans with inexpensive hooks, and you have a unique focal feature that instantly elevates your kitchen design. Click here for DIY inspiration. If you'd rather leave it to the pros, there are lots of affordable, ready to assemble options like this elegant Copper Rack from Home Depot.
Add a new light fixture above your kitchen table: If you have a kitchen table, switching out the light fixture above the table can instantly breathe new life into the space, making your kitchen feel more modern and on-trend. Pinterest has light fixture ideas for just about any style of kitchen. Click here to find one that matches the design and look of your kitchen.
Add crown molding to cabinets: Adding crown molding to the tops of your cabinets accomplishes a few different goals. It adds visual interest, makes the cabinets look more expensive, and also draws the eye upward, making cabinets look taller. Check out this DIY tutorial here.
Small changes to your kitchen can make a big impact on your home—and with a little time and effort, you can easily make those changes in a single weekend.