Barbara Milner, a Houzz contributor, shows us just how good a kitchen can look.
If you're considering the contemporary style for your kitchen, one challenge you may face is how to make it cozy. Choosing wood cabinets is one wonderful way to add warmth.
These five kitchens are contemporary, a design style characterized by clean lines, a lack of adornment and, often, a neutral color scheme. It's the second most popular style for remodeled kitchens, according to Houzz research. Each kitchen shows a different type of wood cabinetry. Which material would you choose for your kitchen?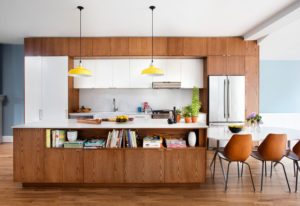 1. Flat-Cut Red Oak on Island and Upper Wall Cabinets
Red oak is a popular hardwood in North America and a dominant species in U.S. forests. It has a distinctive grain and gets its name from the tree's leaf color in the fall (which explains why, despite the name, this wood is not always red in color). It's considered a timeless classic and used in furniture, flooring, cabinetry and architectural millwork.
"Flat cut" refers to the way the wood in this kitchen was cut. This method creates a cathedral pattern, sometimes called peaks, on the face of the board.
How it's used. Designer Lisa Lev used flat-cut red oak on the kitchen island, upper wall cabinets and tall pantry cabinet. The gables — or sides of the cabinets — are also red oak and nicely frame the white cabinets. The island's matching red oak toe kick creates a floating effect and a soft transition to the engineered hickory flooring. Lev's clients did not want island stools, so she created built-in shelving for kids' books instead.
Supporting elements. Lev used white to balance the striking red oak with engineered quartz countertops (Organic White by Caesarstone). They have a clean, modern aesthetic that doesn't compete with the wood.
Flat-front white cabinets and a classic white hexagon tile backsplash keep the spotlight on the wood's grain pattern. A slim three-quarter-inch countertop profile helps keep costs down, while simple stainless steel cabinet pulls quietly support the design. Vintage teak chairs (see the previous photo) add more wood warmth, while yellow pendant lights introduce a cheery note.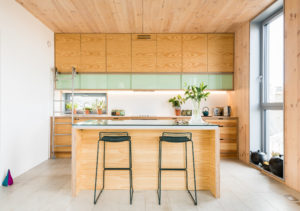 Why it works. The red oak's beautiful flat-cut grain brings an abundance of natural texture to this contemporary space, creating an atmosphere that's at once modern and organic.
Durability. Red oak is strong and resilient. Its rating on the Janka scale — a measure of wood's hardness — is 1,290, which is considered medium. Red oak is a readily available species and the benchmark against which all other wood species are compared.
Click here for full article and pictures