It is always good to have a professional appearance to your home office. For me, I like it to stay like home. I keep a neat area for me and my clients to meet but still maintain a relaxed atmosphere. Normally, the dogs come out and help relax everyone.
Mikkie Mills adds on some tips to help create the right atmosphere in your home office.
Whether you've just moved into your home, or you lived there for years now, you might be looking to improve your home office. Your home office is where you can focus without distractions and work in an environment where you feel comfortable. To help you achieve the perfect aesthetic for your home office, here are some ideal updates that you can make that will help you focus, and stay on task for as long as you need to.
1. Natural Lighting
One of the most important things that you can do for your home office is to have natural lighting. Natural lighting helps people to stay more focused and is easier on the eyes than artificial lighting. Artificial lighting has a tendency to fatigue the eyes fast and can even cause headaches for some people. Natural lighting has the opposite effect. It helps you to stay alert and focused for as long as you need to since it regulates your natural circadian sleep cycle. If you want to focus in your home office and get the most out of your work day, the very first thing that you should do is enhance the amount of natural lighting that you get in your home office. If you're currently looking for a home, find one that has large windows in one of the smaller rooms (a room that you'll likely turn into a work office). If you already have your office set up, pull the blinds away from the windows and allow the sunlight to stream into the room all day long.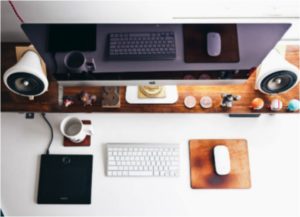 2. Clear Up Space
The last thing that you would want to do in your home office is put so much stuff in the room that you feel cramped. Clutter is the notorious creative jammer. It's hard to focus when the office is messy, disorganized, or it just feels "full." To avoid this feeling, make sure that your office is clean and clutter-free. Don't use it as a storage closet. In fact, move everything out of the office so it's nearly impossible for it to get full of clutter. You want the room to feel open like you could lie down on the carpet and stretch in the middle of the workday if you felt like it. The carpet should be clean and free of junk, the windows washed, and the desk wiped down before you sit down for the day.
3. Set Up Mobile Printing
You might want to set up mobile printing to avoid any extra equipment in the office space and to help you better access and organize your home office. Mobile printing is one of the easiest things to set up and it can help you to organize your materials, create a breathable workplace, and allow you to have access to your work through the ease of your phone. If you're on the go and need to quickly print something from work, you can simply connect to the nearest printer through your phone and print the material.
Click here for the full article