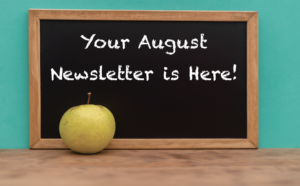 As our communities work hard to flatten the curve, we also continue to face new challenges and learning curves of our own. This August looks very different from last year for many children and families throughout the country. Virtual back-to-school nights and remote learning from home have become the new norm. Not to mention, working parents are adjusting their schedules to oversee their children during the school day. 
This month's newsletter explores some of the challenges of at-home learning with the goal of offering some helpful resources, classroom design inspiration, lunch ideas and more. We also take a look at the local real estate market, which has earned very high marks throughout this pandemic. Read on for the full scoop!
Class is in session…at home! With many of our homes now doubling as classrooms, we've found a few ways to transform any room or small space into the perfect study spot. Check out these fun and creative ideas for some inspiration.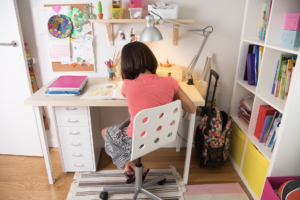 Create a Cozy Study Space: Limited on space? Build a "Study Nook" in your child's room to create a comfortable, organized, and efficient place for them to learn from home. You can also utilize a space in the bonus room, art, music, game or playroom. Check out this adorable Parsons Mini Smart Desk from Pottery Barn. If your child is on the go, they also have a great mobile Lap Desk.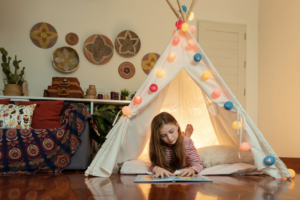 Designate a Special Area for Reading: It's no surprise that children tend to get stir crazy when sitting in one place for long periods of time. So switch things up when it comes to reading time! Whether you have a playroom or a small space in your child's bedroom, designate an area where your child can escape from the "classroom" and curl up with a good book. Use your imagination and gather a reading chair and comfy blankets, some fluffy pillows, a bean bag chair, reading tent…the possibilities are endless! You can also purchase a bookshelf to store their books and tie the space together.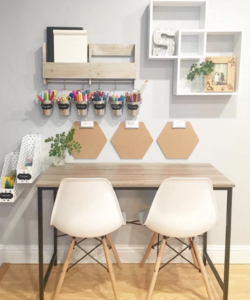 Stay Organized: Organization is essential to staying on track for the school year…especially when merging the classroom and home. Take advantage of color-coded bins to store homework for each subject, add initials next to each child's workspace, personalize cubbies, organize school supplies in an easily accessible rolling cart, and hang floating shelves and file holders to your room of choice.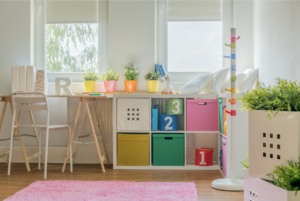 Utilize Natural Light: Have you ever been stuck working in a poorly lit cubicle and had a hard time focusing? The same applies to your kiddos…Help them stay motivated by letting nature inspire them! Creating a study room near windows is not only easier on the eyes, but it will also help them focus on their studies better. You can also breathe some life into the room with beautiful succulents or indoor plants.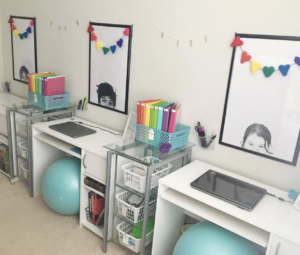 Choose Active Seating: Do your little ones have a hard time sitting still? Encourage them to stay active while they're studying by swapping out traditional chairs with exercise balls. This is also a great option if you're trying to fit everything into a small study room.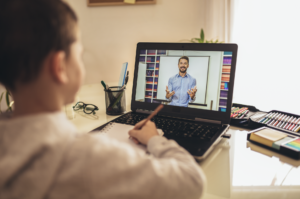 Be Mindful of Distractions: When choosing a study room or area, be mindful of distractions and noises like the television, phones, tablets and anything that might interest them more than their upcoming math test. Opt for background music or silence during study time.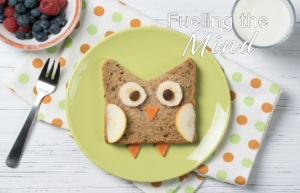 Forget about that boring PB&J sandwich, stale cookie, and those uneaten apple slices…Lunches at home mean that we can be a little more creative and healthy, even when we're on a time crunch. Check out these simple yet satisfying lunch recipes that will have your kids asking for seconds!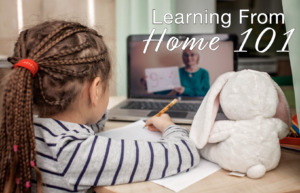 Having the kids home from school is taking on new meaning these days. That's why we've pulled together some informational links and resources to help you overcome the learning curve that comes with this big change.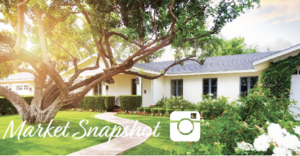 According to a recent article from Redfin, more than 27% of homebuyers are searching out of town, with Phoenix, Sacramento and Las Vegas being the most popular destinations. The reasoning behind this? The pandemic is causing homebuyers to rethink what they want in a home, with more people relocating to places where they can afford more outdoor space and room for home offices, according to the article. Click here to read the full article.