I admit to watching a lot of the flipping homes shows just to get some new ideas on changes to make to the inside of the house. One of those changes has been adding value with the kitchen backsplash. There is something about this that tends to make a home look on the high-end side depending on what kitchen backsplash is chosen. We are looking at new designs now and are all in on something that is popular for 2019.
Elliot McGowan offers up some of the different choices and varieties of kitchen backsplash.
Kitchens of today strive to be as sleek and simple as possible. They are not a room of the home that we tend to decorate extravagantly. Instead, we stick to minimalistic and monochromatic decor that modern kitchen design advocates. Muted, neutral colors like pastoral whites and creams are the go-to options and bright, vibrant colors have become taboo choices. Today kitchen designers don't recommend anything more complex than a two-tone kitchen that contrasts a light shade with a dark shade. But that is not to say that decorative design and splashes of color should be eradicated from kitchen design entirely.
One area we predict a surge in popularity is in the kitchen backsplash — an often overlooked feature of modern kitchen design. Historically, backsplashes are an extra layer of tiling placed on walls behind worktops, sinks, and stoves to protect them from food splashes and spillages. They have always been an integral part of the kitchen but not just for their practicality and hygiene — they are also a fantastic way to inject color and character into a kitchen. Tiles have a decorative prowess and with many different styles originating from all over the world, there is a multitude of stunning options at our fingertips. Here are some extravagant backsplashes inspired by cultures around the world, from Mexico's Talavera tiles to the Netherlands' famous Delftware blues.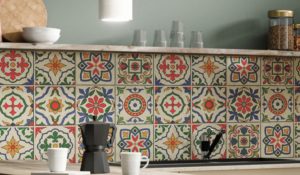 When talking about tiling and backsplashes, Portugal's Azulejo tile is one of the first that springs to mind. Anybody who has visited Portugal may recognize the style. Tiling is extremely common in the Mediterranean as tiles don't retain heat so help to keep places cool in high temperatures. They are also, however, an important part of Portuguese culture and identity. Azulejo tilework actually dates as far back as the 13th century and was brought to the Iberian Peninsula when the Moors invaded what is now Spain and Portugal. Azulejo in Arabic means "small polished stone" and originates in northern Africa.
The last few centuries saw an explosion in Azulejo popularity. Today, it is common to see Azulejos adorning churches, palaces, schools, restaurants, bars, and train stations, as well as regular homes. They are also used extensively in interior decoration. In the kitchen below the Azulejos inject a perfect degree of character into the kitchen. The pastel blue, beige and yellow colors are soft and modest, rather than overpowering. The mandalas are decorative but not excessive, they complement surrounding neutral walls without creating a busy effect.
Click here for the full article